How To Reduce Spam Score In Semrush & moz
Semrush is a powerful online research tool for search engine optimization, digital marketing and keyword research. It can be used to get an overview of your company's position in search engines. The spam score helps you identify what content on the site might need to be improved or removed altogether to prevent Google from blocking it from its index. In this article, learn how you can lower your spam score using Semrush's features!
Domain authority and spam score are two important factors that determine website ranking in search engines.
Spam score is calculated by the number of spam links pointing to your website. The higher the spam score, the more negative impact your website search engine.
What is a spam score?
A spam score is a number that reflects how likely your website is to be penalized by Google. The higher your spam score, the more likely you are to be penalized. There are a number of factors that contribute to your spam score, including the number of outgoing links you have, the number of keywords you use, and the amount of duplicate content on your site.
There are a few things you can do to reduce your spam score and avoid being penalized by Google. First, make sure to use relevant and keyword-rich titles and descriptions for your blog posts. This will help Google understand what your content is about and make it more likely to show up in search results. Second, avoid using too many keywords in your blog posts. Stuffing your content with keywords will not only make it difficult to read, but it will also trigger Google's spam filters. Finally, make sure to regularly check for broken links and delete or redirect them as needed. Broken links can signal to Google that your website is outdated or poorly maintained, which can lead to a lower ranking in search results.
How can you reduce your spam score in Semrush?
Keep your keywords relevant to your topic.
Make sure your website is well designed and easy to navigate.
Use Semrush's tools to help you assess your website's spam score.
Remove high spam score & un relevant backlink sites using semrush & google Disavow tool
Can reduce spam score by using semrush and google webmaster tools.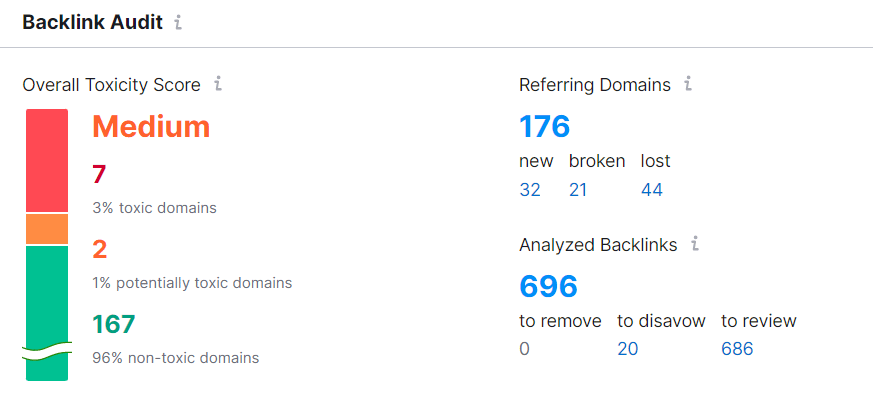 Go to semrush audit and click on the link below mentioned

And one more thing you need to submit disavow links to google webmaster – Click here
After collected the spam links you need to create disavow file. Disavow file generator will help you to create disavow file.
Try our disavow tool enter your bad links and click create disavow file . it will generate disavow file within seconds. now you can submit to google disavow links removal.
submit your list in google disavow links tool and wait for 5 to 6 days.
After few days you can check disavowed list in google webmaster tool and you can see your website spam score was reduced.
Why did the spam score start to happen?
The spam score is a measure of how likely a website is to be flagged as spam by search engines. The higher the score, the more likely it is that the website will be penalized by search engines. There are a number of factors that can contribute to a high spam score, but some of the most common include:
- Using black hat SEO techniques
- Having a large number of low-quality backlinks
- Using duplicate or spun content
- Having a high proportion of keyword-rich anchor text
Fortunately, there are a number of things you can do to reduce your spam score and improve your website's ranking. Some of the most effective methods include:
Creating original, well-written content
Reducing the proportion of keyword-rich anchor text
Remove unwanted backlinks
How can you solve this issue?
If your spam score is high, it means that your site is being flagged as spam by Semrush. To reduce your spam score, you need to take action to clean up your site and improve its quality. This can include improving your content, fixing broken links, and improving your overall website design. You should also make sure that you're not using any black hat SEO techniques that could get you penalized by Semrush. If you take these steps, you can improve your spam score and get your site back on track.
Use Google webmaster disavow tool to remove high spam backlinks – Click Here
Conclusion
Here are a few final tips to help reduce your spam score in SEMrush:
-Keep your keyword density under 2.5%
-Use variation in your anchor text
-Don't stuff keywords into your title tags
-Make sure your site is mobile friendly
-Build high quality backlinks from relevant sources
By following these tips, you can improve your chances of ranking higher in SEMrush and other search engines.